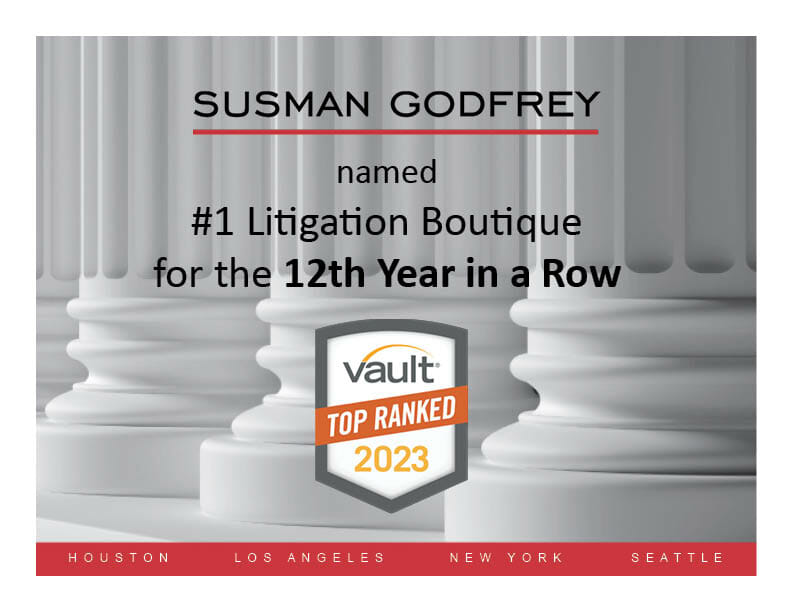 Vault has named Susman Godfrey the #1 Litigation Boutique in the nation for the 12th consecutive year. The firm, which Vault says is a "heavyweight litigation outfit and one of the best in the county," has earned this honor every year since the survey's inception.
Top of the Charts
Susman Godfrey had another banner year in the Vault rankings, coming in among the top spots in several key areas:
#1 US Litigation Boutique. The firm has been ranked #1 every year since the inception of the rankings.
Regional Leaders. The firm's Houston office is ranked among the Best Mid-Size Law Firms in Texas for the third year in a row. The New York office also ranks as #1 for 2023.
National Leaders.The firm is ranked #41 in Vault's Law 100 – a list of the top 100 firms in the country. The firm moved up the rankings in this category from the prior year.
Transparency. In 2023, the firm is ranked as the Best Midsize Law Firm for Transparency.
Top Five. SG ranks in the top 5 nationally for Compensation, Career Outlook, and Selectivity.
These rankings come on the heels of Susman Godfrey being named #1 Mid-Size Litigation Firm in 2022 by Texas Lawyer and Trial Firm of the Year by Benchmark Litigation.